Travel with Chamee - View
Driver Rating - 5.0
Vehicle Rating - 4.9
Business Rating - 5.0
FILTER
We were so lucky to have Chamee as our driver and knowledgeable guide. Our trip started in Colombo where we were met by Chamee. This is where our...
(read more)
My wife and I booked Chamee for a 21 day tour around Sri Lanka for our honeymoon and had an amazing time! We're typically independent travellers so were...
(read more)
We traveled with Chamee during 20 days in August, to visit whole Sri Lanka. We were 3 : my husband, myself and our 3 year old child. It...
(read more)
Chamee accompanied me on my 5 day quick solo holiday to Sri Lanka in June 2022. Despite the fuel crisis Chamee delivered my full itinerary as planned: Colombo,...
(read more)
We did a 10 trip with Chamee during Easter. Everything went very well. When you travel with Chamee you are getting a driver, an itinerary and activity organizer,...
(read more)
Chamee goes above and beyond. Always helpful, always respectful of personal space; very knowledgable; and always one step ahead. He made our trip stress-free. My wife and I...
(read more)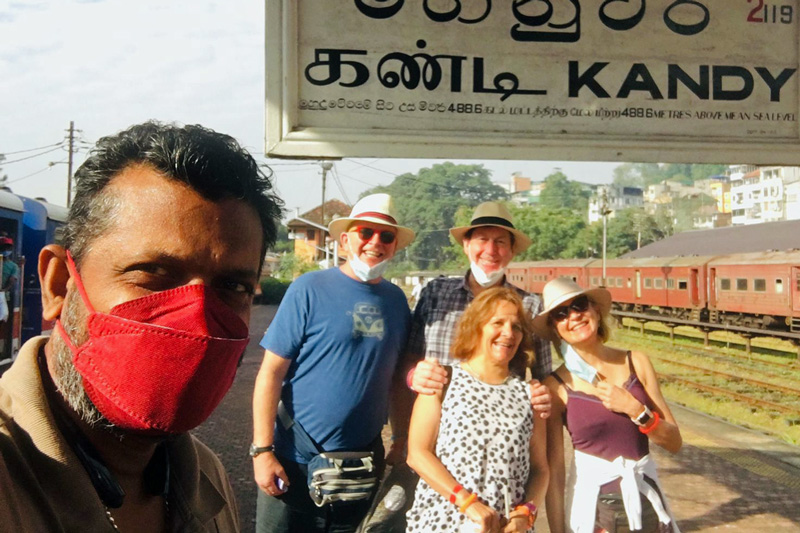 Chamee was a wonderful informative driver who couldn't have done enough for us. We had a great time and hope to return to Sri Lanka next year.
Chamee goes beyond what you can expect of a great trip and he helps you to explore this beautiful country! We had a great adventure into the depths...
(read more)
We travelled with Chamee for 11 days from 2-12 Feb as part of our 3 week honeymoon and it was a delight! Before For our honeymoon we wanted...
(read more)
Chamee is the greatest driver, tour guide, historian, and trip organizer in Sri Lanka. We know this for certain because our group was large enough to have multiple...
(read more)
We had the pleasure of driving with Chamee for 7 days throughout our honeymoon in Sri Lanka from the 11-18 January 2019. Chamee greeted us immediately upon arrival...
(read more)
Chamee var väldigt trygg att ha med sig på vår åtta dagars resa med honom genom det vackra Sri Lanka! Några saker som vi fyra 60 plussare uppskattade...
(read more)
An excellent choice is not only a driver, but also a travel assistant. It's always there when you need help or a hint, it's very pleasant in conversation,...
(read more)
War eine sehr durch organisierte Führung und sichere Fahrt mit unserem Fahrer Chamee Translated by Google: Was a very organized tour and safe ride with our driver Chamee
Colombo - Rathnapura - Haputale - Ella 4 Days - 19/12/2019 to 22/12/2019. Chamee was an exceptional driver. His local knowledge and insights were extremely helpful. He went...
(read more)