Sri Lanka Centro Tours - View
Driver Rating - 5.0
Vehicle Rating - 5.0
Business Rating - 5.0
FILTER
We are 3 spanish friends that contracted Roshan services. (centre tours LK). from the beginning the communication with him was excellent. He answered our doubts in less than...
(read more)
I found Roshan from the Site and it was a best decision in my 2nd visit in Sri Lanka.this time i wanted to explore North side in the...
(read more)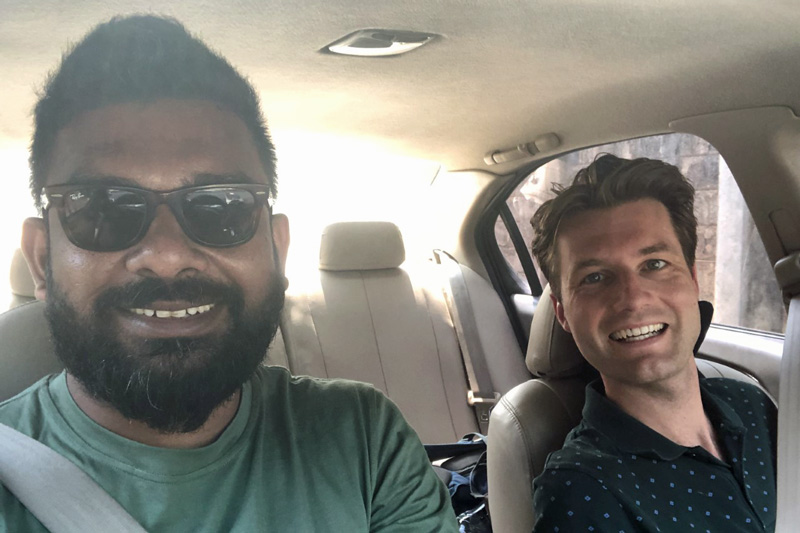 We choose Centro Tours for our 8 days in Srilanka because of their Communication was really intresting.Our Guide and Driver Mr.Roshan was very polite and good communication skills.He...
(read more)
We are three of siblings who's wanted to visit this beautiful island and we found our best Driver and Guide in the Island Mr.Roshan.he is not just a...
(read more)
We booked a 1 week tour with Roshan throughout Sri Lanka. First of all, Roshan met all our expectations and is an excellent & safe driver. In addition,...
(read more)
I decided to take a solo trip to srilanka. Not too sure about the transfers in the country I found Sri Lanka Centro Tours. They are excellent with...
(read more)
We Were Two guys on Wonderful experience touring in Sri Lanka with our friendly & knowledgeable driver and guide Roshan with 7 days. He was such a pleasure...
(read more)
Roshan was a safe driver and spoke very good English. The car was clean and comfortable. I would definitely recommend him and would use him again. With most...
(read more)
Roshan from Sri Lanka Centro Tours was our driver and tourguide for a week during our trip from Ella to Negombo in January 2019. We received his contact...
(read more)
We booked a driver in January 2019 for 4 days taking us from Negombo up to the Cultural Triangle to visit Sigiriya, Polonnaruwa and Dambulla. Everything was arranged...
(read more)
Trip to Sirigiya rock with qiuck brekfast on the way✌? Drop and pick up station easily arranged. Afterwards we went to Dambulla Golden Temple and a herble garden....
(read more)
January 2019: We had a great time with our driver Roshan. He picked us up at our stay in Kandy (Nook Rest) and took us to Pidurangala and...
(read more)
Today we used driver Roshan who took us from Kandy to Nuwara Eliya. He was an extremely safe driver and stopped at a lovely clean toilet when we...
(read more)
Roshan from Sri Lank Centotours drive us from Kandy to the airport in Negombo, stopping at the Millennium Elephant Foundation for a few hours on the way. Roshan...
(read more)
Comfortable and interessting drive from Kandy to Sigiriya with a stop in Dambulla. The Driver was very friendly and give us a lot of information. Thanks to Roshan